It's time to replace your roof, and there are so many choices. The government is giving major tax credits for installing solar roofing, but what is the cost and savings? There are also all the other roofing options — asphalt, metal, ceramic tile, slate, and copper. Here are some factors to consider when deciding what kind of roof to install.
Advantages of Traditional Roofing
Asphalt composite shingles are typically the most economical roofing materials, and they are widely available. Asphalt shingles vary in quality, with some lasting 10 to 15 years and others carrying 20 to 25 year warranties. In colder climates, asphalt roofs can help save on energy costs because they are typically dark colored to absorb the heat. Asphalt roofs are also easy to repair.
Pros and Cons of Solar Roofing
As technology advances, the price of solar roofing continues to fall. Additionally, the federal government is offering a 30% tax credit through 2019, with the credit phasing out slowly after that. The initial cost of solar roofing is still higher than for other types of roofing, but if your roof is positioned well for solar absorption, you could save up to your entire energy cost each month.
It's worthwhile to do the calculations to find out whether it would save you money to have solar roofing, which typically lasts 20 to 25 years. And if you are looking to cut your energy use for environmental reasons, solar roofing may be the best way to do it.
Advantages of Other Roofing Types
If you aren't sure about converting to solar roofing or your roof isn't well positioned to absorb sun rays, another type of roofing may be better for you. The following roofing materials cost less than solar roofing, but don't offer the energy-saving benefits solar power can.
–Metal roofing is especially fire resistant and can last longer than other types of roofing since the material is not susceptible to insect or animal damage.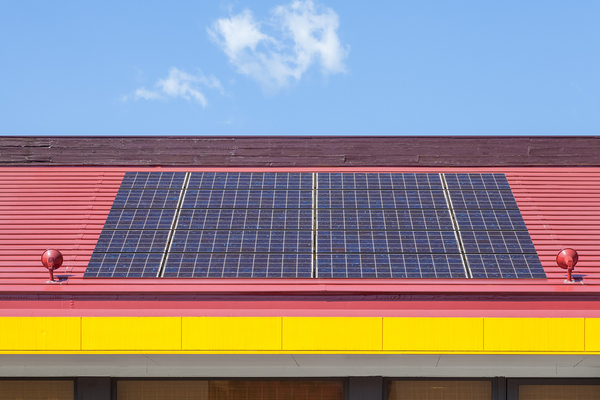 –Ceramic tile roofs can be in keeping with a home's historical look and can blend in with certain types of architecture. This material also lasts a long time.
–Slate roofing is stylish and a good insulator, as well as being durable and long-lasting.
–Copper roofing is the longest-lasting roofing material, with up to a 50 year lifespan. It is also fire retardant and conducts heat well for a colder climate.
–"Green" roofing allows plants or moss to grow on the roof, which can help with thermal insulation. It holds in heat or cool air to make the home more comfortable.
–In warmer climates or those where summer cooling costs are most costly, lighter-colored roofing materials of various types will help disperse the heat away from the home.
A roofing contractor can help you decide how to choose the best type of roofing for your home. Moonworks installs various kinds of roofing including Dow Powerhouse Solar Roofing. Call 1-800-975-6666 for your free estimate.