Colorful, clean gutters, doors, and siding can make a dramatic difference in the beauty of your home. Sometimes, however, cleaning alone won't do it — you may need to apply a fresh coat of paint. Here are some tips for choosing the right exterior paint for the job and doing that job correctly.
Different Paints for Different Surfaces
Spend the extra money on premium name-brand paints, because they tend to stick to exterior surfaces more securely for better long-term results. Generally speaking, gutters, siding, doors and porches can all take either oil-based or latex-based paints — but pay attention to the material the gutter or other item is made from, since oil-based paint tends to work better on aluminum. Masonry usually calls for latex-based paint, while pools require special cement-based products.
Proper Preparations
Clean gutters, doors, and other surfaces are essential if you want your new paint job to adhere properly. Don't rely on pressure washing, which typically leaves a thin residue of dirt behind. Good old-fashioned scrubbing with an ordinary dish soap solution will do a much better job of ensuring clean gutters and other exterior features. Strip off any loose paint from your gutters; doors and other wooden items may require sanding to obtain a smooth finish.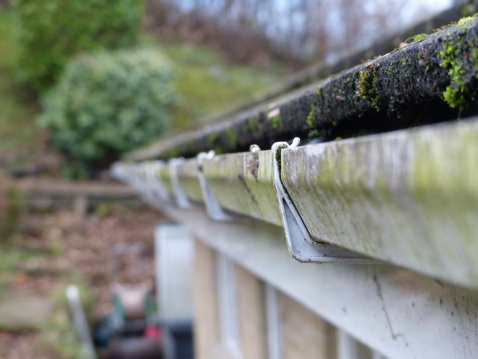 Once your surface is ready, it's time to apply a primer. Ferrous metals, galvanized metals, and PVC all require different types of primers. For aluminum gutters you can use either an acrylic bonding primer or the more usual oil-based metal primer. But make sure your primer doesn't contain ammonia, which can react with oxides in the aluminum to create ugly bubbles in the paint.
Colors Make a Difference
What about color choices? Obviously you'll want to select a color palette that suits your home's overall color scheme and style — not to mention the choices made by your neighbors, so you won't stick out on the block like a sore thumb. Bear in mind that some colors of exterior paint will definitely last longer than others. Fading from UV exposure is the biggest issue, and the degree of fading depends on how much UV a given color absorbs. Dark colors absorb the most UV, so they're bound to fade faster and more noticeably than lighter colors, which reflect large amounts of the sun's energy.
White is probably the safest overall choice for items like gutters — not only does it reflect more UV than other color, but it's considered an all-purpose classic look for trim and detailing. Other earth tones can also last a long time, with creams and yellows offering an especially welcoming image. In the end, of course, it's up to you; just keep your paint's durability in mind so you won't have to repaint regularly.
A fresh coat of sturdy paint not only boosts your home's curb appeal, but it also helps protect it against the elements — giving you a safer, more energy-efficient home. If your roof and gutters have taken a pounding from rough weather, you might even want to get the roof inspected and the gutters covered with protective devices such as the Moonworks Gutter Helmet. Call 1-800-975-6666 to get your exterior renovation off to a great start!