A rolling stone may gather no moss, but your roof has no such mobility options — and a buildup of moss on the shingles can drastically reduce your roof's usable life span. That's why it makes sense to deal with any moss you see before you have to shell out for a major roof repair. Let's take a closer look at this "green menace" and how to protect your roof against its effects.
The Problem With Moss
Moss is a seemingly innocent vegetative growth that many people regard as an attractive enhancement to old stone or brick garden walls. Its mass of tiny leaves creates the appearance of a green organic carpet. But this is one carpet your rooftop can most definitely do without. Moss grows not only on shingles but over the spaces between shingles — in fact, it actually favors these spaces because its spores naturally tend to collect there.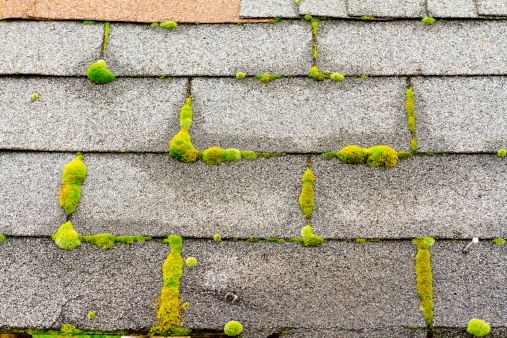 Unfortunately, moss is highly absorbent. Every time it rains, your rooftop moss soaks up an impressive amount of water that would normally roll down into your gutters and downspouts. This is a serious problem for a couple of different reasons. First, the water that remains on your roof can accelerate the erosion of your shingles, hastening the need for surface-level roof repair. Second, the moss lodged in the spaces between shingles transfers water under the shingles to the roof underlayment, where it can do serious structural damage requiring even more extensive roof repair. Along the way you may experience water damage and mold growth on the inside of your home.
What You Should Do
Removing moss can be a tricky business because it's so easy to damage your shingles in the process. Scrub away at the moss too harshly, and you're likely to come away with bits of shingle as well! Pressure washers are a no-no for the same reason, and spraying water at the wrong angle will only drive more moisture underneath the shingles and exacerbate whatever leaks you may already have.
Instead of ripping the moss off of your roof, try killing it by changing the roof's pH balance. Moss cannot live in too acidic or basic an environment. You can apply an acidic solution of vinegar, citrus or tomato juice to kill moss; just make sure it's weak enough not to damage the roof itself. On the other end of the spectrum, you can apply baking soda, soap, salt, ammonia or bleach (being careful not to use the last two items in combination) to produce a high pH environment. There are also a variety of commercial products such as zinc sulfate that kill moss so you can remove it with minimal effort. (Always read the safety warnings on the bottle!)
Once that moss is gone, you want to keep it away as best you can. The only way you can do that is to give your roof the right conditions to drain properly and stay dry. If you have overhanging trees that drip rainwater or deposit wet leaves on your roof, cut those branches back. This will reduce the amount of organic debris while also allowing your roof to receive more direct sunlight. Keeping your gutters in good operating condition will help your roof drain so moisture doesn't turn it into a moss nursery. Consider adding a device such as the Moonworks Gutter Helmet to keep your gutters from getting clogged.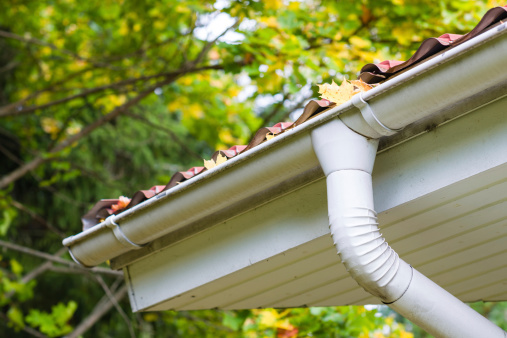 Take care of your moss problem and you'll find it easier to avoid roof repair situations. If the damage is already done, or you're not sure what condition your roof is in, call 1-800-975-6666 to obtain an expert opinion and fix any issues before they get worse. Emulate that rolling stone — and stop gathering moss!