Gutters are the unsung heroes in home protection. Though you may not think about them often, your gutter system may be one of the most effective protective elements of your home's exterior and vital to keeping you on a solid foundation. Basically, if you care for your gutters, your gutters will take care of you. But what is the most effective preventative step you can take in caring for this important system?
Regular cleaning of your gutters is something you must do at least twice per year to keep them free of debris. But there are other alternatives to climbing that ladder and being assured the gutters are well maintained 100 percent of the time.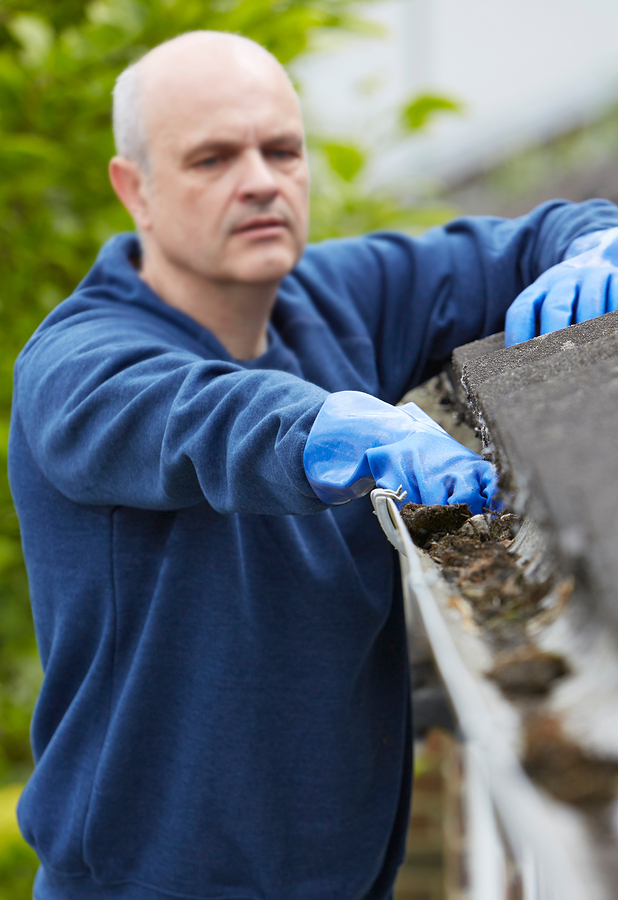 Cleaning your gutters must be done twice
per year, unless you invest in gutter protection.
The simplest solution is to attach a gutter cover, filter, or bypass device to keep as much debris out of them as possible. The number one problem homeowners experience without gutter protection is when a gutter and downspout get so backed up with debris they become useless. Excess weight of leaves, twigs and standing water can cause them to sag and pull away from the home. Not using the right gutter guard can lead to costly problems.
Some Options for Gutter Protection
Leaf Guards: These are designed purely to keep leaves, vermin, and other relatively large objects out of the gutter.
Micro-mesh: Is a product available that you can buy at the home improvement store, which can block some of the smaller debris from collecting. These are designed to fit on top of gutter support brackets or slide just under the roof shingles.
Gutter Screens: These guards are placed over the gutter and secured with clips, screwed down or snapped in. They are made out of expanded aluminum or steel with round holes, and perforated plastic sheets with round or diamond shaped holes.
Special Fittings: Some gutters will only accept specific types of cover, so you would need to contact your manufacturer to order the one that will fit your system.
The Downside to Most Options:
These solutions, be it mesh or the typical leaf guard that you can buy, still require you to climb the ladder at least twice a year to clean any accumulated debris that is blocking or covering your drainage system. According to guttergaurdreview.com, they offer you some protection, but will still need continual maintenance.
Though most standard gutter covers prevent leaves from collecting, they probably will still allow other debris like pine needles, dirt, and small twigs from nearby trees to collect. Your protection has limits and will require you to keep on your six-month cleaning schedule.
Gutter Guards
If you are looking for better protection, and less work, consider attaching a product like the Gutter Helmet. It features a hood with a textured "nose-forward" surface, which protects by extending out from the roof edge, leaving a small space between the hood's lip and the gutter. The way this product is textured causes debris to separate from the water that passes on into the gutter, virtually eliminating most of the sources for a clog in the system.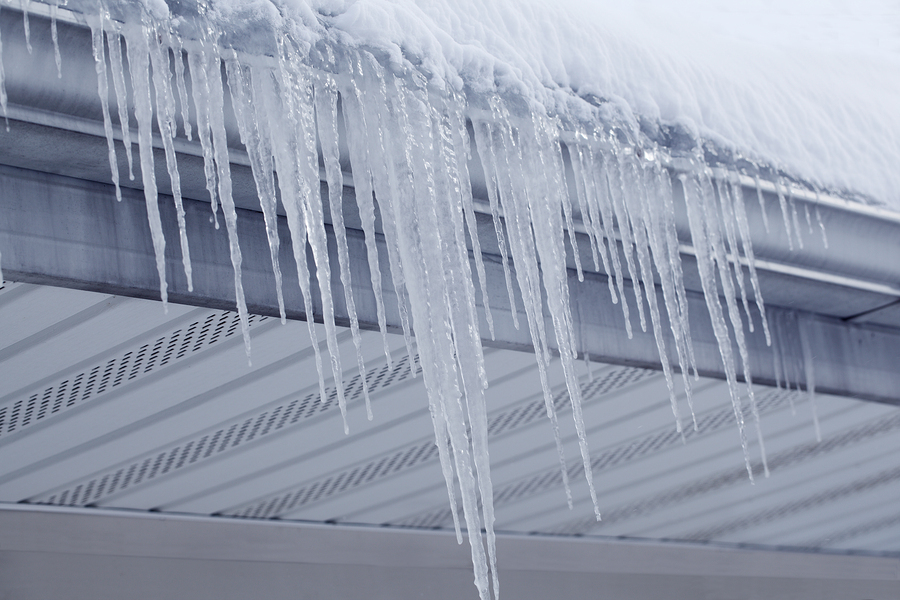 Heating helmets for your gutters protect you from the formation of ice dams in the winter months. They require 50 percent less cable than other traditional exposed wire heating systems and reduce the buildup of ice substantially within your gutters.
Clogged gutters at any time of year can cause costly damage to your home and finding the best gutter protection solution can save you time and money. To learn more about gutter guards, call 1-800-975-6666.