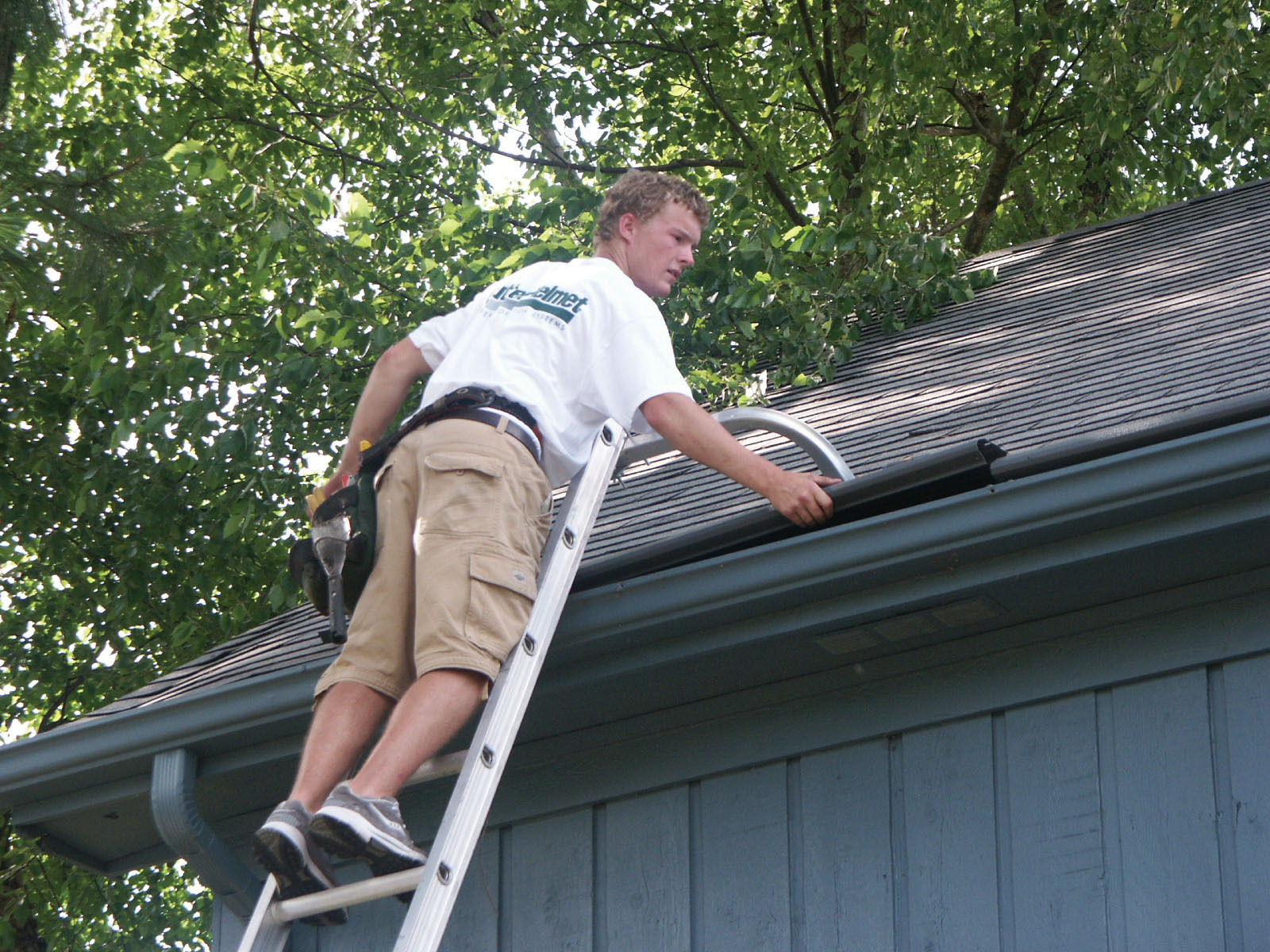 It's hard to overstate the importance of gutters to a home's maintenance program. A properly-functioning guttering system collects and channels runoff water from the roof so that it flows away from the home itself. Conversely, clogged, leaky, or broken gutters allow water to fall or spread around the base of the home, which over time can lead to landscape erosion, flooded basements, and even costly foundation problems.
So if your gutters are not working the way they should (and are beyond repair), they should be replaced as soon as possible. But you may be asking: how much will it cost me to undergo a full gutter replacement?
Materials Costs
The answer to that question depends on whether or not you will hire a professional to replace your gutters or purchase the materials on your own and perform the task yourself. Let's first examine the cost of the replacement materials that will be needed to complete the project, including a final estimated cost for a home with 125′ of guttering and two 10-foot long downspouts.
Material: Vinyl
Cost for gutters/downspouts: 50 cents – $1.00/foot
Estimated project cost: $72.50 to $145
This is a popular choice for do-it-yourselfers because of the inexpensive cost of materials. However, the tradeoff with vinyl is its lifespan; it is more susceptible to wear and tear than metal gutters. Vinyl can also crack in climates with extremely cold temperatures, which can lead to leaks and separations.
Material: Aluminum
Cost for gutters/downspouts: $5.00 – $10.00/foot
Estimated project cost: $725 to $1450
This is the most common option for guttering because it is durable, yet lightweight. The metal lasts for a long time because it is resistant to rust, and most aluminum gutters come with a coating that inhibits erosion. And while aluminum will usually outlast vinyl gutters, it is more malleable and can be bent or buckled from a falling tree branch or misplaced ladder.
Material: Galvanized Steel
Cost for gutters/downspouts: $10.00 – $12.00/foot
Estimated project cost: $1450 to $1740
Like aluminum, galvanized steel gutters will not fall victim to rust, but they tend to last even longer than their aluminum counterparts because they are more rigid and sturdy. The downside is that galvanized steel gutters are more difficult to work with because of their weight and bulk. Plus, installation often requires soldering sections together, making it more difficult to complete for the average DIY homeowner.
Material: Copper
Cost for gutters/downspouts: $13.00 – $18.00/foot
Estimated project cost: $1885 to $2610
Half-round copper gutters offer a different shape than the angular-cornered types found with softer metals. They're even more resilient than steel, and continue to look aesthetically-pleasing even if a patina forms over time. But its complexity makes copper a poor alternative for do-it-yourselfers; only professionals with experience in working with copper are recommended for installation.
Installation costs
There are plenty of contractors across the country who will happily take on the task of gutter replacement for you. These companies will take care of all the materials and supply the labor for the installation as well. Generally speaking, you can expect to tack on one to five extra dollars per foot of guttering to the final cost if you contract the job out to a professional. But gutter installers will transport the materials, hang and test your gutters, and clean up after themselves.
If you're looking for a dependable gutter replacement contractor who stands behind their work, look no further than Moonworks. They've been serving Rhode Island, Massachusetts, New Hampshire, and Connecticut for over two decades, and they pride themselves on providing superior customer service and high-quality workmanship. So call Moonworks today at 1-800-975-6666 or fill out the form to the right to see about getting the gutters replaced on your home.