Homeowners today are expanding their living space by moving it outdoors. The type of outdoor space can depend on a number of things. One of the most popular home improvement projects you can take on is creating outdoor living space designed for entertaining guests and additional space for the family to gather.
What outdoor addition is right for you? Well that depends on your budget, because you can choose from adding a simple patio or deck, ideal for family dining and enjoying a glass of wine while you watch the sunset, or something bigger, like building a gorgeous outdoor kitchen where you can create far more than just a simple barbecue.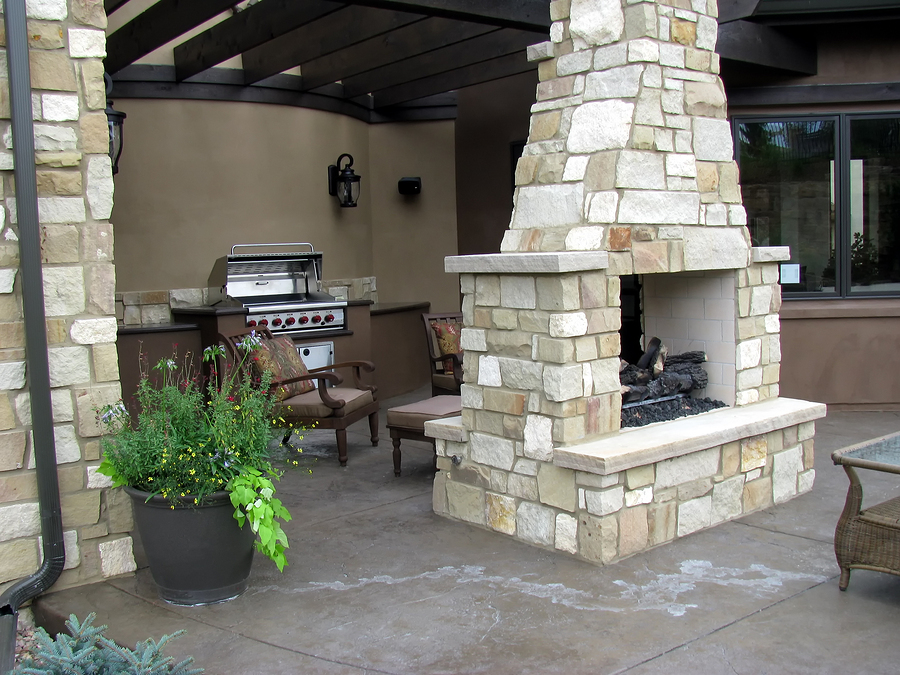 Homeowners today improve their outdoor living space to provide more room to entertain.
Upkeep of outdoor spaces is relatively easy. Because most outdoor furnishings are made with ease in mind a quick wipe with soapy water is all that's needed to keep it looking great. Add easy-to-care-for plants and other landscaping elements to enhance the appearance of your outdoor space. Regular watering will keep the landscaping looking lush and inviting.
Top Ways to Use Outdoor Space
There are several outdoor living projects that are trending right now. The addition of these to your property will increase the enjoyment of your home, add value, and perhaps make you the envy of your neighbors.
Outdoor Patios and Decks for Entertaining: Nothing beats plenty of comfortable space nestled near the house, but in the great outdoors. Add colorful flowerbeds around this space and dress it up with comfortable outdoor furniture that makes you want to settle in to enjoy a meal with your family or curl up with a good book by yourself. These spaces can become your family's personal oasis.
Outdoor Fireplaces and Fire Pits: The fire pit has come a long way in recent years and now homeowners are creating them, surrounded by patio pavers and set up with comfortable chairs, so family and friends can enjoy hours of great conversations by the fire. If the budget allows, adding an outdoor fireplace is a cozy luxury item you will never regret. It is both, a homey place to gather and a beautiful focal point to your yard. According to backyardsandgardens.com, an outdoor stone fireplace can be used throughout the year, even in cold months. In fact, sitting around the fire and enjoying its warmth can become a family holiday tradition.
Large Gazebos: Still popular for many homeowners, adding a gazebo in your yard provides a covered, pretty outdoor space for entertaining and family meals. Depending on the size, you can add patio furniture and even a table for dinner on warm summer evenings. Colorful plants or flowers around the gazebo give it a warm, cozy feeling. It's almost like you are staying at a country inn and this is where the refreshments are served.
Outdoor Kitchens: The outdoor cooking space can go well beyond a small gas grill sitting on your deck. A popular trend is to create a full outdoor kitchen complete with sink, a cooktop, and grill. This takes outdoor entertaining to a new level and allows you to make the most of your outdoor living space.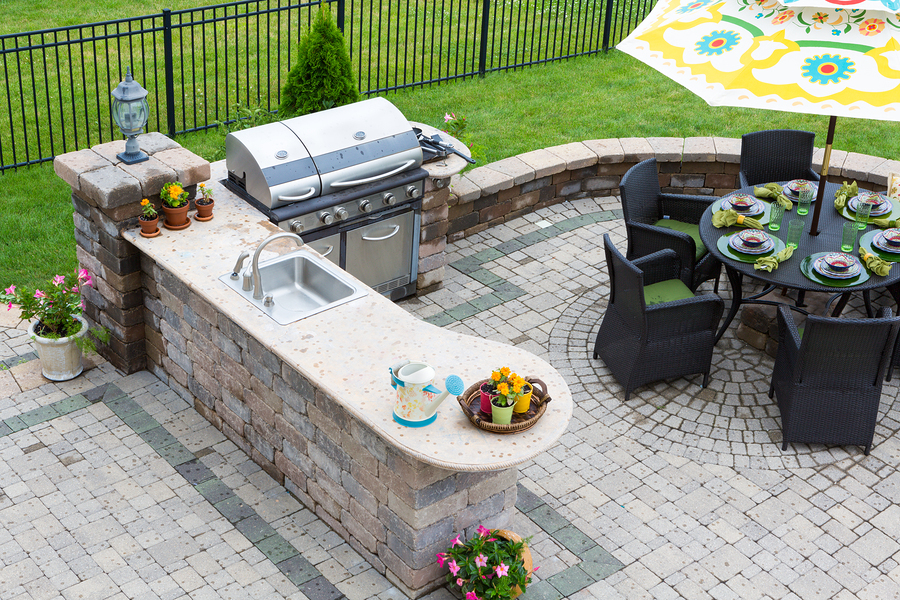 Keeping it all Clean and Green
Once you have created your outdoor oasis, be it a cozy place to sit and talk, or a grand place to cook an elaborate dinner, you have to keep it all clean, well-maintained, and welcoming. Most homeowners seek simple ways to keep their outdoor spaces looking beautiful and it can be far easier than you might think.
To keep outdoor kitchens clean you need to wash away the grime that can build up due to ash and smoke from the BBQ, water from the pool and all the drinks and snacks you serve from the area. A good washing with a standard kitchen degreaser or baking soda and water will do the trick and keep things sparkling.
Outdoor furniture needs occasional cleaning too. Mild, soapy water and a good rinsing will do the trick to remove dirt, pollen and any food remnants.
Your landscaping around these outdoor living areas need maintaining to look their best too. After weeding your flower beds or landscaped areas, add a thick layer of wood mulch or stone to curb back weed growth. Keep every plant watered and fertilized as required.
Best Ways to Water
All of this cleaning and garden beautification requires water, and if you are living in an area that is limiting your use of water, or you are trying to be more environmentally conscious, water harvesting might be an ideal addition to your outdoor living home improvement plans.
According to motherearthnews.com, the simplest rainwater collection device is having a rain barrel, and it can save you thousands of gallons of tap water each year. Lawns and garden watering typically consume 40 percent of a typical household water use each summer. But what if you could capture that rain and put it to good use cleaning and maintaining your outdoor oasis? That is a home improvement that will save you money, energy and help the environment.
How to Harvest Rainwater
Harvesting rainwater has many benefits, including controlling runoff, which reduces the risk of erosion in gardens and around downspouts around your home.
Here are a few things you will need:
A Way to Capture it: Most commonly this is the roof of a building or your house.
A Way to Move it into Containment: This refers to whatever moves the water from the roof to its storage area – for example, gutters, downspouts, and piping.
A Storage Barrel: Typically a barrel or a tank, this is what collects the rainwater for later use.
A Way to Distribute the Water: This can be as simple as a watering can or bucket, or as elaborate as an underground irrigation system.
But you cannot collect barrels of rainwater unless your gutters are up to the task of delivering that water to your collection barrel. Good, clean gutters produce less debris in the barrel, which will allow for easier streaming from the barrel's spigot. So, your first step is to examine your gutters closely to see whether they can handle this task. If you see signs of rust or they leak, it is probably best to replace them before forging ahead with rainwater harvesting.
For more information on improving your gutter systems and how to make them work for you to support your outdoor living spaces, call 1-800-975-6666.