Stephan Baldwin is the Director of Business Development for Assisted Living Center, a resource for senior care communities.
Creating a garden offers seniors more than a basket of fresh vegetables and herbs or a vase full of colorful, fragrant flowers; gardening can enrich the body and mind. In addition, tending a garden provides seniors with an enjoyable way to stay active while upping their home's value.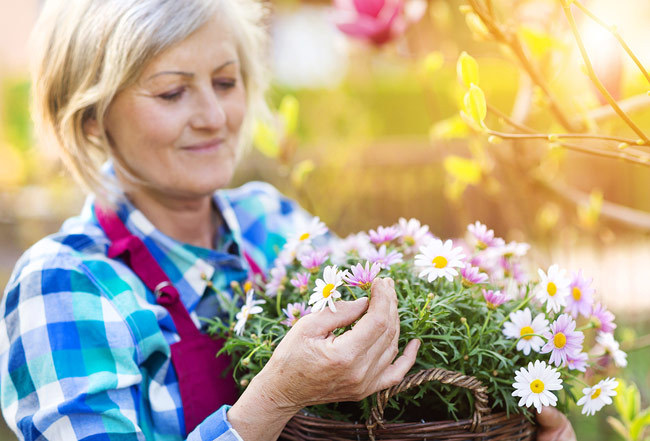 Gardening is a popular and rewarding hobby for seniors.
Keep Safety in Mind
With careful planning, anyone can create a safe, inviting garden. To prevent falls, make sure pathways and steps are or have:
Free of hazards (ice, tools, hoses, tree roots, cracks, etc.)
Avoid:
Pointed features throughout the garden (stakes, canes, etc.)
Create an Easily Accessible Garden
To allow for wheelchair access and/or easier maneuverability with walking aids, all garden pathways should have a hard surface that's no less than 36 inches wide. When creating a raised garden bed, the bed should be approximately 24 inches high. This allows for wheelchair access and reduces the need for bending, which is particularly attractive to those suffering with arthritis or other painful conditions. Additionally, for the center of the bed to be wheelchair-accessible, keep in mind that the average reach is about 24 inches, whereas 30 inches is acceptable for individuals who can stand.
Choosing Plants
The Plant Hardiness Map is a huge help, as it's an indicator of which plants will do best in your region. Once you find your hardiness zone, visit HGTV's Plant Finder to search by your hardiness zone and discover vegetation that will thrive in your specific zone.
Plant Perennials and Annuals
Perennials return year after year, whereas annuals only last for one season. By mixing annuals and perennials, seniors can enjoy the fruits of their labor from years past while planting replacement annuals.
Seniors: Tips for Making Gardening Easier
If you have vision issues, buy tools that are very easy to see (i.e., don't buy green tools!). Likewise, if you have arthritic hands, find ergonomic garden tools to lessen the strain put on your joints.

If possible, avoid using seeds; transplants are much easier to handle.

Use a gardening cart to transport items.

Strategically place stools and chairs throughout your garden to eliminate constantly needing to bend or squat.

In areas where watering will be difficult, use soaker hoses or drip irrigation.

Add mulch to reduce weed growth. Mulch also reduces the amount of water necessary for a plant to thrive.
Consider Creating a Sensory Garden
Sensory gardens are perfect for seniors, especially those who have dementia, as all five senses are aroused. Additionally, a sensory garden will hold the individual's interest.
Sight
When adding color to your garden, balance restful, soft colors with energizing colors. This combination avoids overstimulation. Visually beautiful flowers include:
Smell
According to a study conducted by the Social Issues Research Centre, pleasant odors can improve an individual's mood and overall sense of well-being. Fragrant foliage and flowers include:
Hearing
The delicate sounds of wind chimes, moving water, ornamental grasses and the rustling of leaves can create a soothing environment.
Touch
Individuals with sensory impairments that affect their eyesight or ability to smell can enjoy feeling the plants. Some vegetation that offers interesting textures include:
Lambs' ears – velvet leaves

Astilbe – feathery flowers

Polystichum setiferum – a lacy fern

Miscanthus – feather-topped tall grass

Pennisetum – soft, flowing grass
Taste
Eating foods we enjoy can make us feel content, so plant vegetables, fruit trees, vines, herbs and edible flowers that can be enjoyed while visiting the garden. Make sure edible plants have their own section away from the non-edible varieties. Some tasty herbs and edible flowers include:
Additional Elements to Consider
Shaded Space
Provide sitting areas throughout the garden. If possible, set your seating up close to trees and/or bushes, as they'll offer shade from the sun and shelter from the wind.
Water Features
Don't create ground-level ponds because these can be hazardous to individuals in wheelchairs and/or using mobility aids. Instead, opt for raised water features like fountains.
Attract Birds and Butterflies
Incorporate bird feeders, birdhouses and birdbaths throughout the garden to attract local wildlife. Keep in mind that butterflies need at least six hours of sunlight a day and are attracted to plants that offer them nectar. If you want to attract birds and butterflies, plant the following:
A beautifully designed, robust garden gives seniors a sense of accomplishment, an active pastime, and a tranquil place to enjoy nature. On top of that, a gorgeous garden will undoubtedly add value to your home.