People typically think of Gutter Helmet© as being most beneficial in the fall, since its patented design keeps all those pesky autumn leaves from clogging up your gutter. Gutter Helmet© protection extends far beyond fall, however; some of the best benefits are found in the summertime.
Gutter Obstructions in the Summer Months
Although fall is a likelier time for gutters to become clogged, summer presents its fair share of gutter problems that can lead to backups, especially during heavy thunderstorms and other severe weather. Animals and birds often choose the relative protection of gutters to build their nests, which may not get noticed until a heavy rainstorm.
Gutters can also be obstructed by debris that is blown into the gutter by heavy winds, and trees that overhang the house can drop leaves even in summer, especially when it's windy. With Gutter Helmet©, you won't have to worry during a heavy storm, because no matter how hard the rain falls or the wind blows, it won't be able to penetrate your gutters.
Freedom to Plant Shade Trees
Planting trees that shade your home from the hot summer sun is recommended by the National Arbor Day Foundation as a way to conserve energy and lower your utility bills. Planting trees on the east, west, and northwest sides of the house can provide shade in the mid-to-late afternoon. Savings can be up to 35% of your air conditioning costs.
Many homeowners are reluctant to plant shade trees because of the gutter problems they can cause. With Gutter Helmet©, these problems will not occur, so you can plant in the best way to shade your home.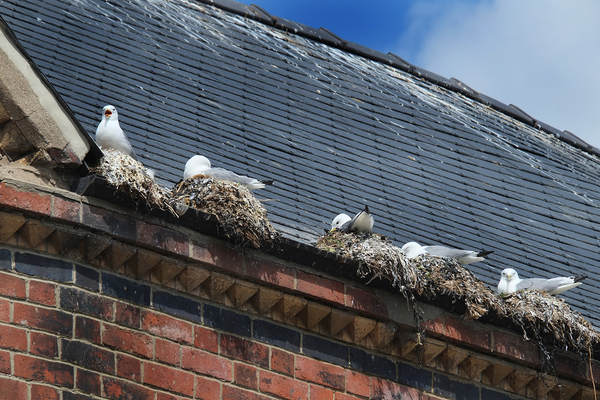 Help With Rainwater Harvesting
Eco-friendly homeowners are increasingly investing in systems to harvest the rainwater that comes out of their gutters. Gutter Helmet© helps filter debris so that the water harvested is ready to use, except for drinking and cooking with. Rainwater harvesting can be a good way to water your garden and lawn, and may prevent drainage problems on your property.
Gutter Helmet© can also provide needed water in emergency situations like a water main break or extended power outage. If you boil the water you harvest, it can be used for drinking and cooking in situations where it is needed for these purposes.
Saving Money With Gutter Helmet©
Gutter Helmet© can save you money by allowing you to plant shade trees and to collect rainwater that you can use to offset your city water usage, in addition to the savings you'll see on annual gutter cleanings. Depending on how much money these practices save you, it may even be possible for Gutter Helmet© to pay for itself over its life span. It's also an attractive feature if you ever decide to sell your home.
Call Moonworks at 1-800-975-6666 to schedule your free estimate for Gutter Helmet©.